Officer! "Ossification" on CD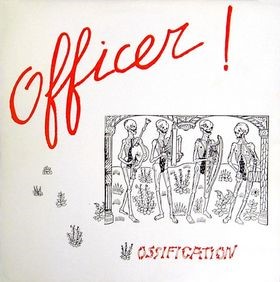 First time ever released on CD - Officer! Ossification. Comes with an 8-page booklet with lyrics and credits.

Officer! is either mick hobbs (The Work, Family Fodder, Half Japanese) alone or Mick Hobbs with friends.
​Ossification' is like an amazing party held at this heat's cold storage studio, with friends like Felix Fiedorowicz, Tom Cora, Tim Hodgkinson, Bill Gilonis, Zeena Parkins,Patick Q & Catherine Jauniaux. The output of this party resulted in becoming one of the most unusual, pleasurable & character-filled "pop" records one has heard. Fourteen songs that contain the spirit of pop, rock, classical, medieval, avant garde, R.I.O., The Work, FamilyFodder, This Heat, Look de Bouk, Legendary Pink Dots, Henry Cow & more. 'Ossification' is a timeless anomaly in the history of recorded music.
For LP Version Click Here...
Tracklist and sample tracks
05 Spitter's Hooked (On Love)
​03:23
08 Boxers vs Wrestlers
​01:17
Release Details
Format: CD, Album
Released: 1984
Genre: Electronic, Jazz, Rock
Style: Avantgarde
Country: France
Other Records We Offer!
We offer many other records for sale. To see our listing of non-label records please visit us at Discogs.