"Hearing Aid" by R. Stevie Moore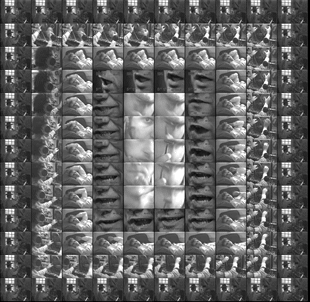 Hearing Aid
R. Stevie Moore
Limited Clear Vinyl Edition.

Hearing Aid is a collectio of Stevie's songs that cover a wide range: pop genius, sublime instrumental country surf, electronic experiments, bizarre spoken word theatre, dark disco rock, field recordings, etx. The end result is not a "greatest hits" collection but rather a diverse sculpture of the world of R. Stevie Moore.

R. Stevie Moore was raised in Nashville and is the son of Bob Moore and the nephew of Scotty Moore, who were Elvis Presley's bassist and guitarist. Stevie started making home recordings as early as the late 60's and still continues to this day. He's made and self-released hundreds of full length cassettes which have been the source for many vinyl releases.

95% of 'Hearing Aid' has never appeared before on vinyl . . . songs range from late 60's to the early 80's. Get R. Stevie Moore's Hearing Aid now, a rare compilation of tracks on clear double vinyl release.

Exclusively available from our site -- a clear double vinyl version, limited to only 200 copies. Just $25.00.
Tracklist and Sample Tracks
A 02 Your Daughter and I
​01:52
A 06 Watch Me On The News
​04:47
A 07 Are You Gonna Thank Me?
​02:31
B 01 Eugene's Record Shop
​00:09
B 03 Birds to Telephone
​00:48
B 06 If you See Kay/Blue Space
​02:45
B 07 Life & Death of an Insect
​00:22
B 09 Adjacent Species Like You
​03:11
Album 2
C 01 The Crystal Chandelier
​05:02
C 06 Pink Litmus Paper Shirt
​03:47
C 07 Hey Man You Got a Cigarette?
​01:10
D 02 There Is No God in America
​04:57
D 04 Ta Da for Bass Viol
​00:45
D 05 Silent Afterthought
​01:38
D 06 Theme from Hurricane Davis
​04:20
D 07 Flowers Sleep Into the Night
​04:37
Release Details
Format: 2 x Vinyl, LP, Limited Edition, clear vinyl
Released: 2012
Genre: Rock
Style: Lo-Fi

Other Records we Offer!
We offer many other records for sale. To see our listing of non-label records please visit us at Discogs.